The Trust Board has overall responsibility for the operational and strategic direction of the Trust and is accountable to NHS Improvement, the regulator of Foundation Trusts. The safety and quality of care provided at our hospitals is regulated by the Care Quality Commission.
The key functions of the Board can be described as:
Setting the strategic direction, defining objectives and agreeing plans for the Trust
Monitoring the Trust's performance and take corrective action where appropriate
Ensuring high standards of corporate and clinical governance
Appointing and appraising executives
Working in partnership with external bodies and the local community for the benefit of the Trust and the communities it serves
The Chair is responsible for the overall conduct of the Trust. He appoints and reviews the performance of the Chief Executive and both the Chief Executive and the Chair appoint and review the performance of other Executive and Associate Directors. The Chair and Chief Executive have key roles in leading the external and public relationships of the Trust and in establishing the appropriate internal environment.
---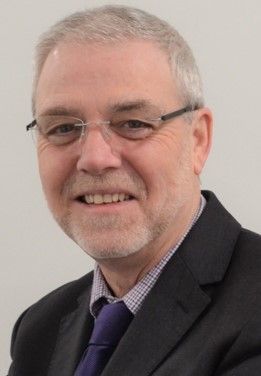 Professor Mike Thomas, PhD, MA(Law), BN, PGCert Ed, FHEA, MBPsS, FRSA, ROA.
Mike has worked in academia and the health sector for nearly forty years in a variety of senior academic roles, including Vice-Chancellor, and holding various professional chairs across four universities. He remains research active and a practising clinical psychotherapist. For many years he carried out clinical research to enhance mental health support for individuals who experience severe and enduring eating disorders whilst, simultaneously, over the last fifteen years he has been working with research colleagues across the UK investigating issues that impact on compassionate leadership in both the public and private sectors. He has written three books and numerous articles and chapters on these two subjects.
More recently he has been providing an advisory service to public and commercial sector organisations supporting staff engagement projects, cultural change programmes and strategies for enhancing good governance.
Mike is committed to the voluntary, charity and public sector and has been continuously involved in charitable work for his whole working life. He is currently serving on the Lancashire County Council Veterans board and the College for Military Veterans and the Emergency Services which he co-founded. Prior to entering academia, he served in the Royal Navy, working for five years in HM Submarines before employment in the engineering sector and then qualifying as a mental health nurse and later a psychological therapist.
Personal Assistants
Cara Berriman
Cara.Berriman@mbht.nhs.uk
T: 01539 715296
The Non-Executive Directors provide support, advice and other specialist skills to the Trust and the Board. They are responsible for ensuring that the interests of the local community are represented and, with the Chair, for monitoring the executive management of the organisation.
---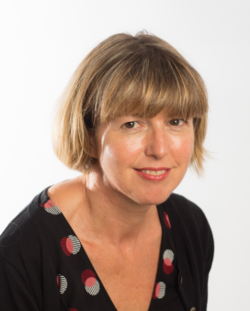 Liz Sedgeley
Liz is a qualified certified accountant who trained in general practice and then moved to what was in 1994 the fastest growing accountancy practise in the U.K. as an audit Manager. This role provided her with an insight into providing excellent customer service along side exposure to the workings of multi national organisations and rapidly expanding entrepreneurial businesses.
After starting a family, Liz set up her own business providing accountancy services to OMBs across the North West where she acts as accountant, Finance Director and counsellor.
She was a Non Executive Director at East Lancashire Hospitals Trust for 8 years where she developed an interest in understanding and improving the patient's experience and helping to develop seamless care between hospital and community settings for the benefit of patients.
Liz is also the Chair of the Audit Committee and Deputy Chair of the Trust Board.
Personal Assistant
Cara Berriman
Cara.Berriman@mbht.nhs.uk
T: 01539 715296
---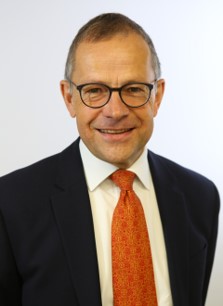 Stephen Ward
Stephen joined the Trust in July 2019.
He is a chartered accountant with a wide experience of financial management, consultancy and audit.
After qualifying with a major accounting firm in the Midlands, Steve moved into a role which combined internal audit and performance improvement at a multi-site business.
This provided the platform to develop a career as a finance and IT consultant providing services to banks, insurance and investment companies.
His most recent role was as Finance Director of a marine mutual insurance business where he led the finance, investment and pension scheme functions reporting to a large international Board of Directors.
He was heavily involved in developing governance, risk and capital management systems to meet the requirements of regulators and rating agencies.
Stephen is also Chair of the Finance Committee meeting.
Personal Assistant
Cara Berriman
Cara.Berriman@mbht.nhs.uk
T: 01539 715296
---
Sarah Rees
Bio and photo to follow
Personal Assistant
Cara Berriman
Cara.Berriman@mbht.nhs.uk
T: 01539 715296
---
Adrian Leather
Adrian joined the Trust in May 2018, while also working as the Chief Executive of Active Lancashire.
Adrian has developed Active Lancashire to become an innovative and transformational change organisation; developing ground breaking partnerships and programmes which contribute to health and economic outcomes using sport and active lifestyles as the tool of choice.
His recent activities include work to promote and test digital health technologies and the development of a £7M European funding bid focused on the economic benefits of getting deprived communities active.
Adrian is committed to ensuring that charities and voluntary sector organisations have the opportunity to step up and work creatively with public services to deliver better outcomes to our communities.
Adrian is also Deputy Chair of the Workforce Assurance Committee meeting.
Personal Assistant
Cara Berriman
Cara.Berriman@mbht.nhs.uk
T: 01539 715296
---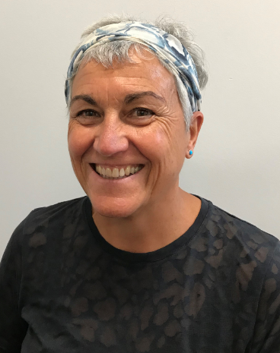 Jill Stannard
After graduating from Southampton University, Jill worked for the voluntary sector with homeless people before qualifying as a social worker in 1982.
Jill worked for Hampshire Social Services for 20 years, taking a secondment to America in 1993 to study mental health services.
After returning she became Area Director of the New Forest responsible for Children and Adult Social Services and then Assistant Director for Disability Services across Hampshire.
In 2005 Jill moved to Cumbria to become Director of Adult Social Care and in 2009 Chief Executive of Cumbria County Council. Jill led the recovery from the Cumbria floods in 2009 and the rebuilding of infrastructure over the following three years.
Jill retired from the council in 2013 and from 2014 she served for four years as Chair of the Quality Committee and Senior Independent for Cumbria Partnership NHS Foundation trust. She is currently a Director of Cumbria University chairing the Employment Policy Committee.
Jill is also Chair of SIRI and Deputy Chair of the Quality Committee.
Personal Assistant
Cara Berriman
Cara.Berriman@mbht.nhs.uk
T: 01539 715296
---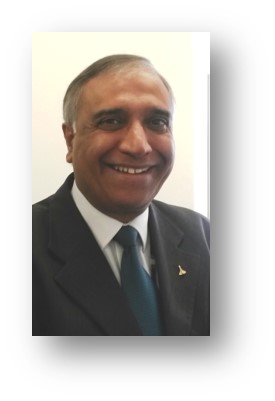 Bruce Jassi
Bruce is a former Assistant Police and Crime Commissioner for Lancashire and previous to that was Chair of the Lancashire Police Authority.
He has also been Strategic Director of Salford City Council, and he joined our Trust Board as a Non-Executive Director in March 2015.
Bruce's extensive experience in public sector leadership, which has included the delivery of major change programmes and multi-million pound efficiency projects, is brought to his key roles in overseeing safety, quality and finance as part of our Trust Board.
He has previously held Board positions for Salford's Healthy City Executive Forum, Crime and Disorder Executive and Urban Vision Partnership, and has pledged to focus on patients in everything he does here at University Hospitals of Morecambe Bay.
Bruce is also Chair of the Emergency Preparedness Meeting, and Deputy Chair of the Finance and Performance Committee.
Personal Assistant
Cara Berriman
Cara.Berriman@mbht.nhs.uk
T: 01539 715296
---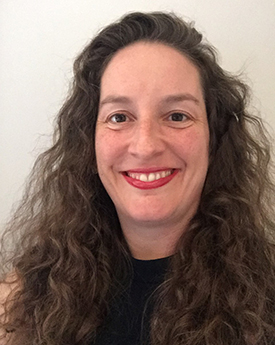 Professor Rachel Isba
Professor Rachel Isba graduated from Oxford Medical School in 2003 and then moved back to the North West, where she completed her house jobs before entering paediatric training.
In 2009, she received her PhD from the University of Manchester and in 2010 commenced her postgraduate training in public health, but continued to see patients in the Paediatric Emergency Department (PED) at North Manchester General Hospital. On completion of her training scheme in 2015, she took up a post as clinically-active Consultant in Paediatric Public Health Medicine, in the PED at North Manchester, part of The Pennine Acute Hospitals NHS Trust.
In 2017 Rachel became Head of Lancaster Medical School and in 2019 was promoted to Associate Dean for Engagement, for the Faculty of Health Medicine at Lancaster University.
She continues her work in the NHS, imbedding public health in the Emergency Department, and with a particular focus on dental health and vaccination for children.
She also has honorary appointments at Yale, the Liverpool School of Tropical Medicine, and the University of California.
Personal Assistant
Cara Berriman
Cara.Berriman@mbht.nhs.uk
T: 01539 715296
---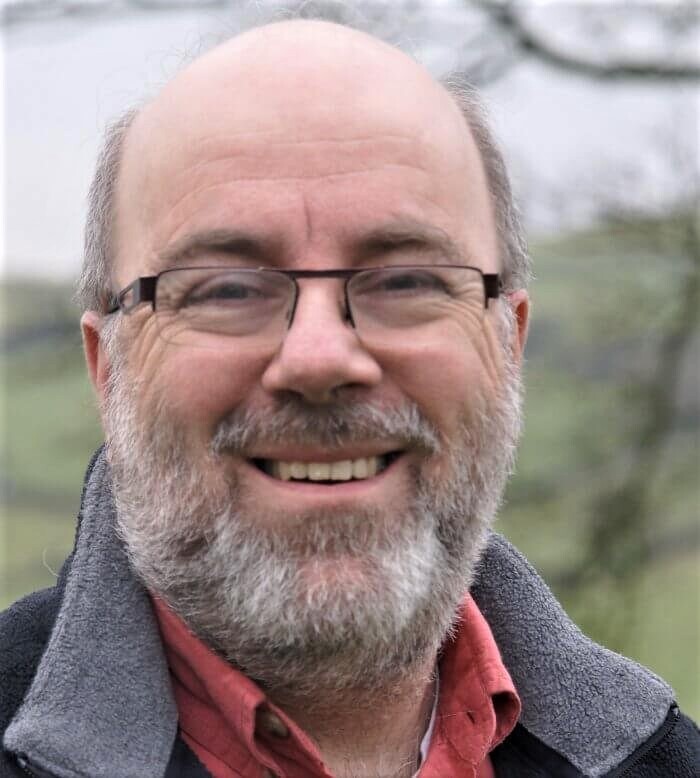 Dr Hugh Reeve
Hugh was appointed a Non-Executive Director at UHMBT in February 2021. Hugh is a GP at Nutwood Medical Practice in Grange-over-Sands in Cumbria which has been rated as 'Outstanding' by the Care Quality Commission. He is also a Director of the Morecambe Bay Primary Care Collaborative, a Federation of GP practices from across the Morecambe Bay area, where he leads the Health Foundation funded project on improving continuity of care in general practice.
Previously Hugh was Clinical Chair of Cumbria Clinical Commissioning Group (CCG), during which time he played a key role in establishing the Bay Health and Care Partnership. Until recently, Hugh was a Visiting Fellow at The King's Fund, where he co-authored the Fund's 2018 report on Innovative Models of General Practice.
Having worked in Manchester and Stockport, Hugh moved to South Cumbria in 2001 to take on the role of Medical Director at Morecambe Bay Primary Care Trust and he also worked as a part-time GP in Windermere. Over the past 20 years he has worked to promote high standards across primary care and to foster collaborative working within general practice and across the wider health and care system.
Hugh studied Medicine at the University of Manchester, graduating in 1981, and gaining a Master's Degree in Management Learning and Leadership from Lancaster University in 2005. In 2015 he received an Outstanding Alumni award from Lancaster University in recognition of his substantial contribution to the health service both locally and nationally.
Personal Assistant
Cara Berriman
Cara.Berriman@mbht.nhs.uk
T: 01539 715296
The Chief Executive is the accountable officer to Parliament and is responsible for ensuring that the organisation works effectively in accordance with national health policy, public service values and maintenance of financial control. The Chief Executive is also personally
accountable for clinical and corporate governance. The Chief Executive is directly accountable to the Board for ensuring that its decisions are implemented.
---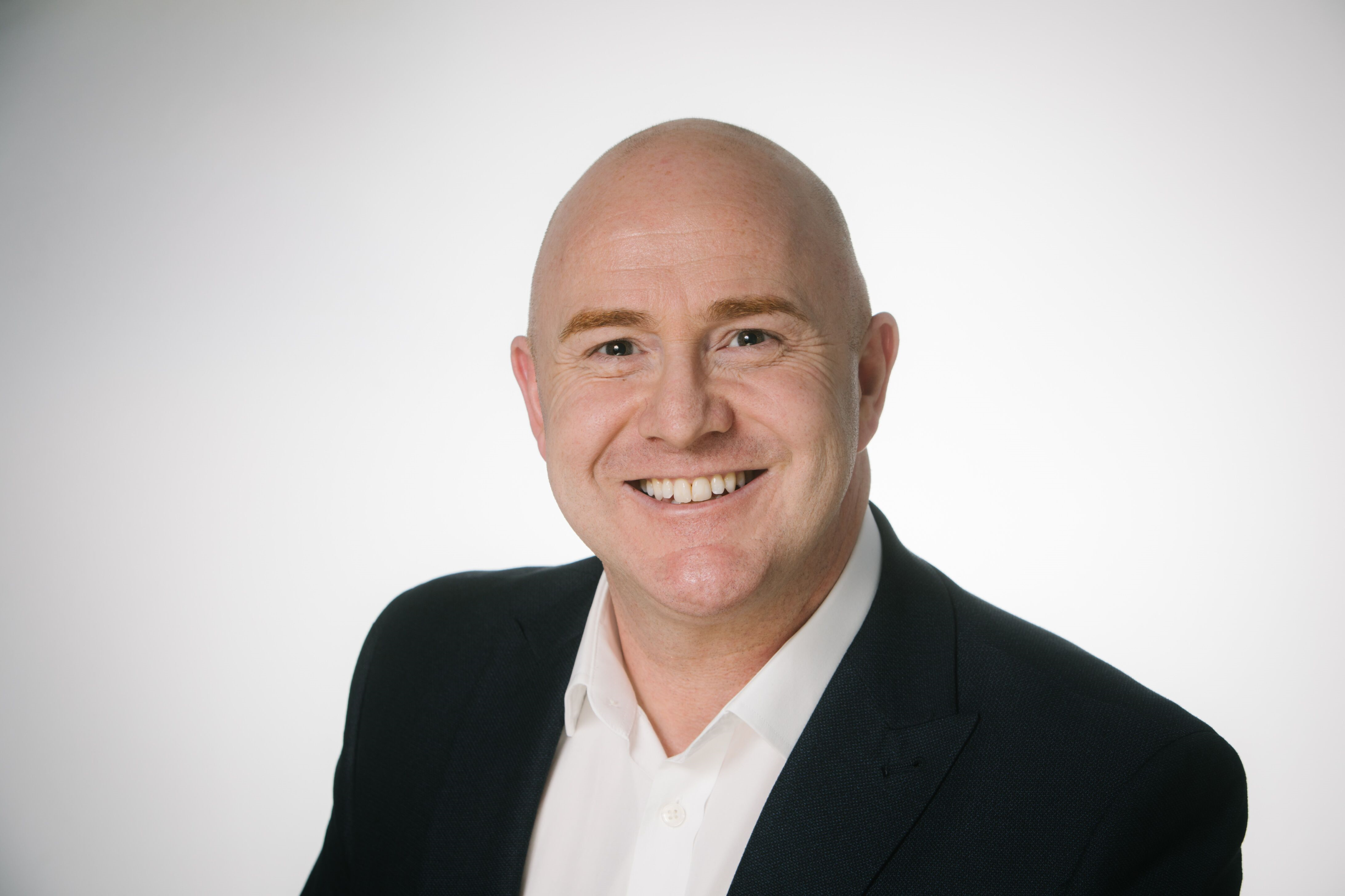 Aaron Cummins
Aaron was appointed Chief Executive of the Trust in March 2018 after first joining us in January 2014 as Director of Finance / Deputy Chief Executive.
Most recently, Aaron was the Director of Finance / Deputy Chief Executive of Mid-Staffordshire NHS Foundation Trust – a role he was appointed to in June 2012. Prior to that, he was Director of Finance at Liverpool Heart and Chest Hospital NHS Foundation Trust (LHCH).
Aaron started his career in the NHS as a National Graduate Trainee in 2000 and held a number of senior management positions in the finance function before being appointed as Director of Finance at LHCH in August 2009.
Aaron has also held a number of national roles including chair of the Foundation Trust Network Finance Directors' Forum and the Government Procurement Services (GPS) Customer Board, as well as being a member of the National Procurement Council.
Executive Assistant
Victoria Davies
Victoria.davies@mbht.nhs.uk
T: 01539 715259
The Executive and Associate Directors, led by the Chief Executive, are responsible for the overall management of the Trust. This includes the delivery of services, the management of staff and resources and the development of Trust's strategic direction. The Executive and Associate Directors have individual responsibilities and provides leadership for specific areas of work.
---
Jackie Bird
Interim Executive Chief Nurse
Jackie has worked in the NHS for just under 40 years. Her career in nursing began as a registered mental health nurse and then as a registered general nurse. The majority of her clinical career was in Oncology at The Christie Hospital in Manchester working from staff nurse to acting Director of Nursing during her first time there. She then became the first Director of Nursing for the Greater Manchester and Cheshire Cancer Network.
Jackie spent five years at Salford Royal as Deputy Director of Nursing and Governance and was part of their patient safety journey and it was there that her passion for quality in patient safety, patient experience and clinical and research effectiveness began.
Jackie has been an Executive Director since 2007, including as Chief Nurse and Executive Director of Quality at The Christie NHS Foundation Trust where she led the organisation to be rated twice as an Outstanding organisation by the CQC in 2016 and 2018. More recently, Jackie has been the Regional Chief Nurse for NHSE/I where she provided executive and professional leadership for Nurses and Allied Health professionals and was the lead for the operational delivery of the regional governance and quality agenda.
Personal Assistant
Georgina Barber
Georgina.Barber1@mbht.nhs.uk
T: 01539 716697
---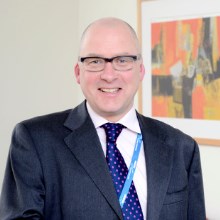 Chris Adcock
Director of Finance / Deputy Chief Executive
Chris will be joining the Trust in mid-February 2021 from the Sussex NHS Clinical Commissioners where he is currently the Chief Finance Officer for the three Sussex CCGs, and Finance lead for the Sussex Health and Care Partnership Integrated Care System.
Chris brings a wealth of experience to UHMBT, having worked in the NHS for 23 years. Prior to his current role, he was Chief Financial Officer at Portsmouth Hospitals NHS Trust for just under four years, following his roles as Director of Finance for the University Hospitals of North Midlands NHS Trust, and Chief Financial Officer for Brighton and Sussex University Hospitals NHS Trust.
Chris' most recent system leadership role means that he also has in-depth experience and understanding of how individual parts of the health and care system can truly work together for the benefits of local communities, and that is exactly what we are trying to achieve with Bay Health and Care Partners.
Alongside the Director of Finance role, Chris will also be splitting the Deputy Chief Executive role with Sue Smith, Executive Chief Nurse; with Chris focusing on system reform and integrated partnership work.
Personal Assistants
Nicola Crossman
Nicola.Crossman@mbht.nhs.uk
T: 01539 715296

Cara Berriman
Cara.Berriman@mbht.nhs.uk
T: 01539 715296
---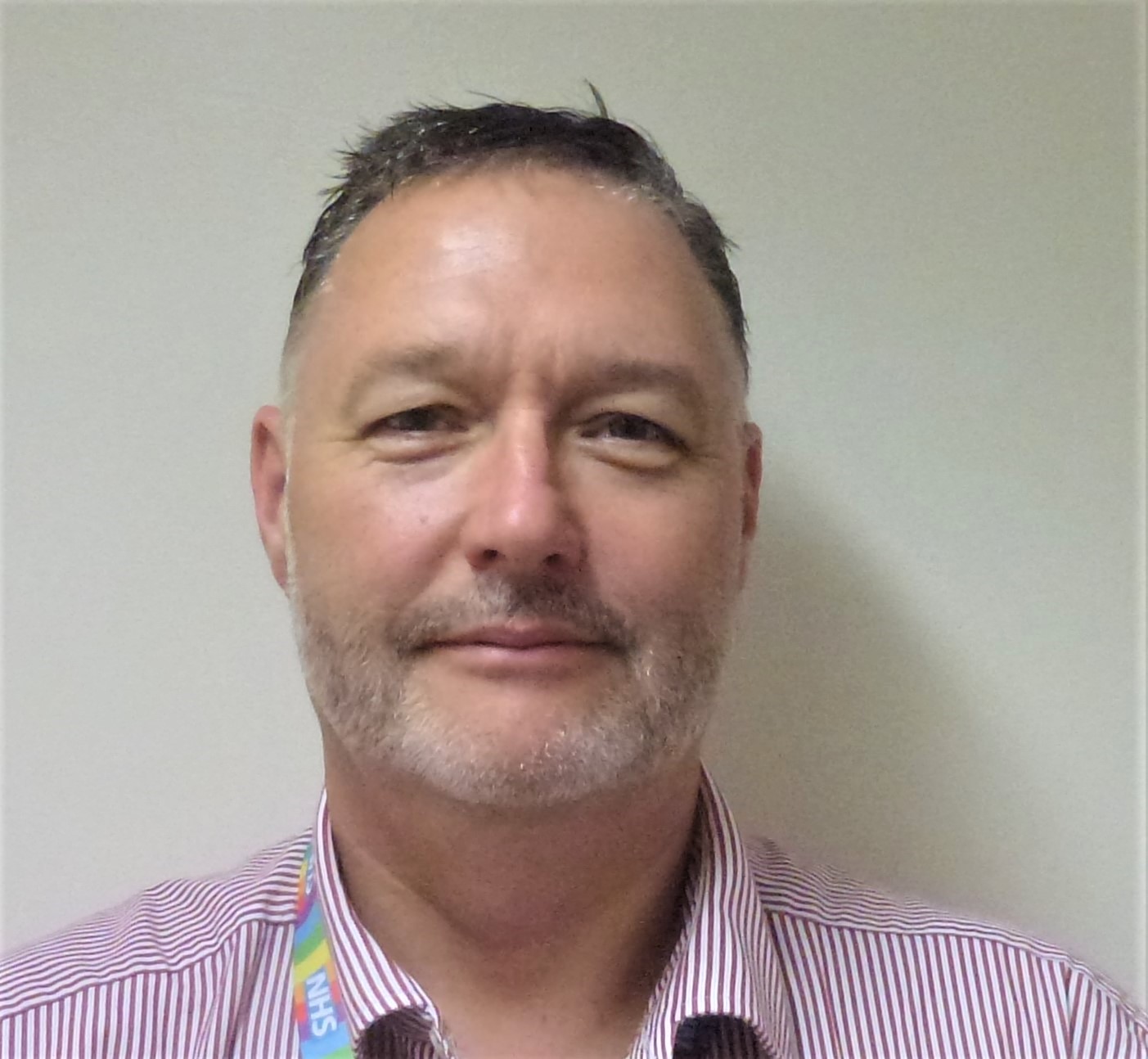 David Wilkinson
Director of People and Organisational Development
David is our Director of People and Organisational Development, and started in post in July 2013.
David has over 20 years HR experience in the NHS, working in acute, mental health and community settings in London and the North West. He was a member of the national project group that introduced the annual NHS Staff Survey, was involved in the piloting and testing phases of both the Consultant Contract and the Job Evaluation system, and is currently a member of the North West Regional Clinical Excellence Awards Subcommittee.
He is committed to embedding the NHS Constitution's Staff Pledges into every aspect of employees' working lives and in creating the right conditions for staff to flourish and give their best for patient care.
Personal Assistant
Elisa Rushton
Elisa.Rushton@mbht.nhs.uk
T: 01539 715223
---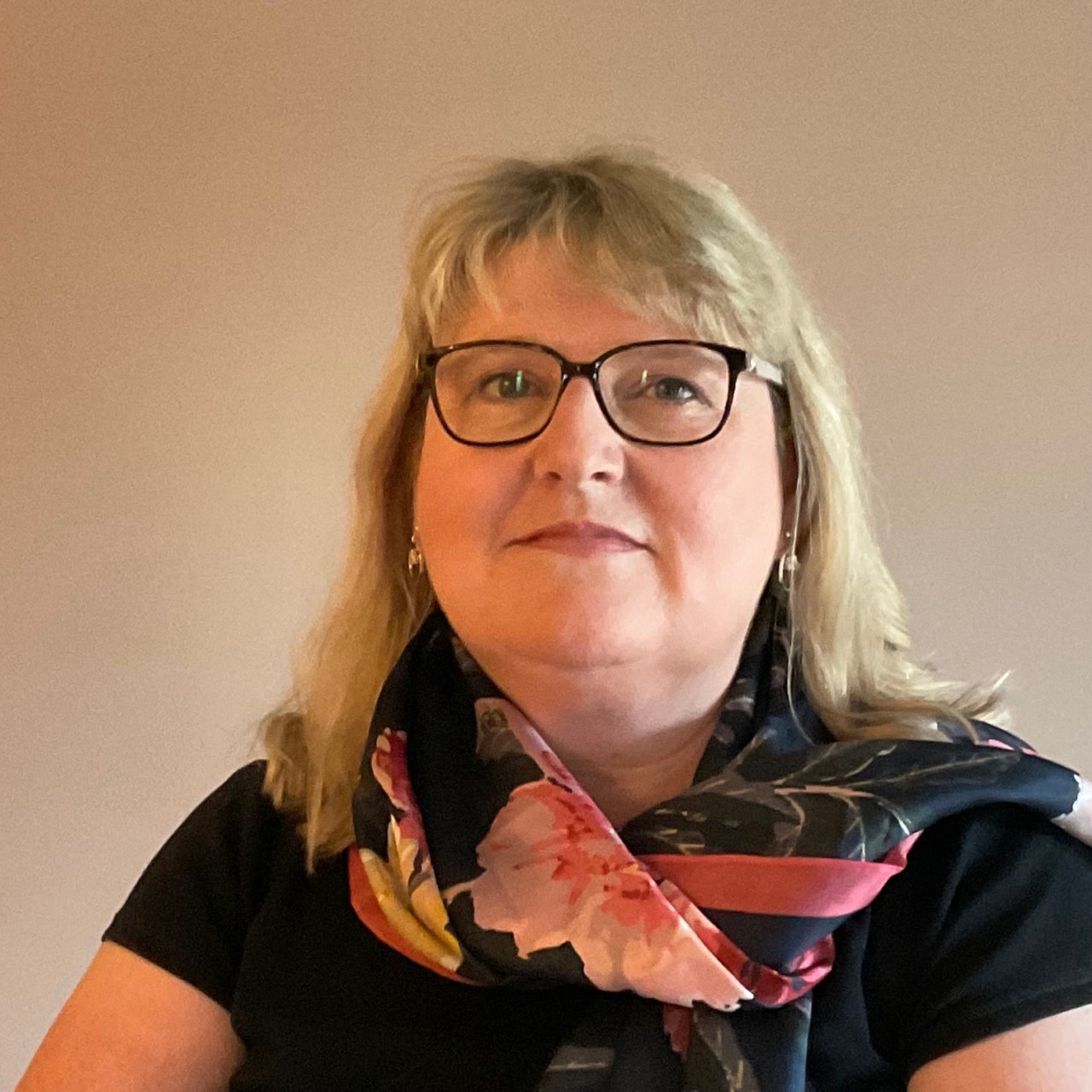 Jane McNicholas
Medical Director
Miss McNicholas joined the Trust on a 12 month secondment in November 2021 whilst the recruitment for a permanent Medical Director is completed.
Miss McNicholas joins us from East Lancashire Hospitals NHS Trust (ELHT) where she worked as a Consultant Breast and Oncoplastic Surgeon. She first joined ELHT in 2010 and became Clinical Lead for Breast in 2015.
She then took on the role of Clinical Director for Cancer Services in 2016, but gave that up when she became the Medical Director for the Lancashire and South Cumbria Cancer Alliance in 2019. Also in 2019, Miss McNicholas became Deputy Medical Director for Performance and Service Development.
Personal Assistant
Barbara Hubbold
Barbara.Hubbold@mbht.nhs.uk
T: 01539 716666
---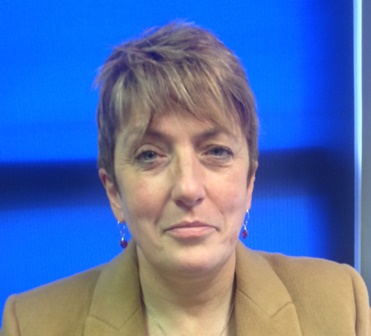 Kate Maynard
Chief Operating Officer
Kate Maynard was appointed as Chief Operating Officer of UHMBT in September 2020. Kate was previously the Trust's Deputy Chief Operating Officer and Interim Chief Operating Officer from April 2020, guiding the Trust through the coronavirus (COVID-19) pandemic.
She joined the Trust in 2013 after working as a Locality Director for the NHS in Devon. In her new role as Chief Operating Officer, Kate has a crucial role to play in redesigning the delivery of hospital and community services for people living in the Morecambe Bay area and will manage all of the Care Groups which run the clinical services provided by the Trust.
As part of her new role, Kate is now also the Lead Director for the Trust's Estates and Facilities teams which includes capital planning and investment. She will continue to oversee the Trust's response to COVID-19, working closely with local health and care partners as well as planning and implementing the Trust's recovery phases.
Kate will lead service improvement and transformation and will be instrumental in redesigning service delivery, drawing on the learning from COVID-19.
As a member of the Senior Leadership Team, Kate will also be pivotal in overseeing improvement in the Trust's Care Quality Commission rating.
Personal Assistant
Lucy Broadhead
Lucy.Broadhead@mbht.nhs.uk
T: 01539 715347
---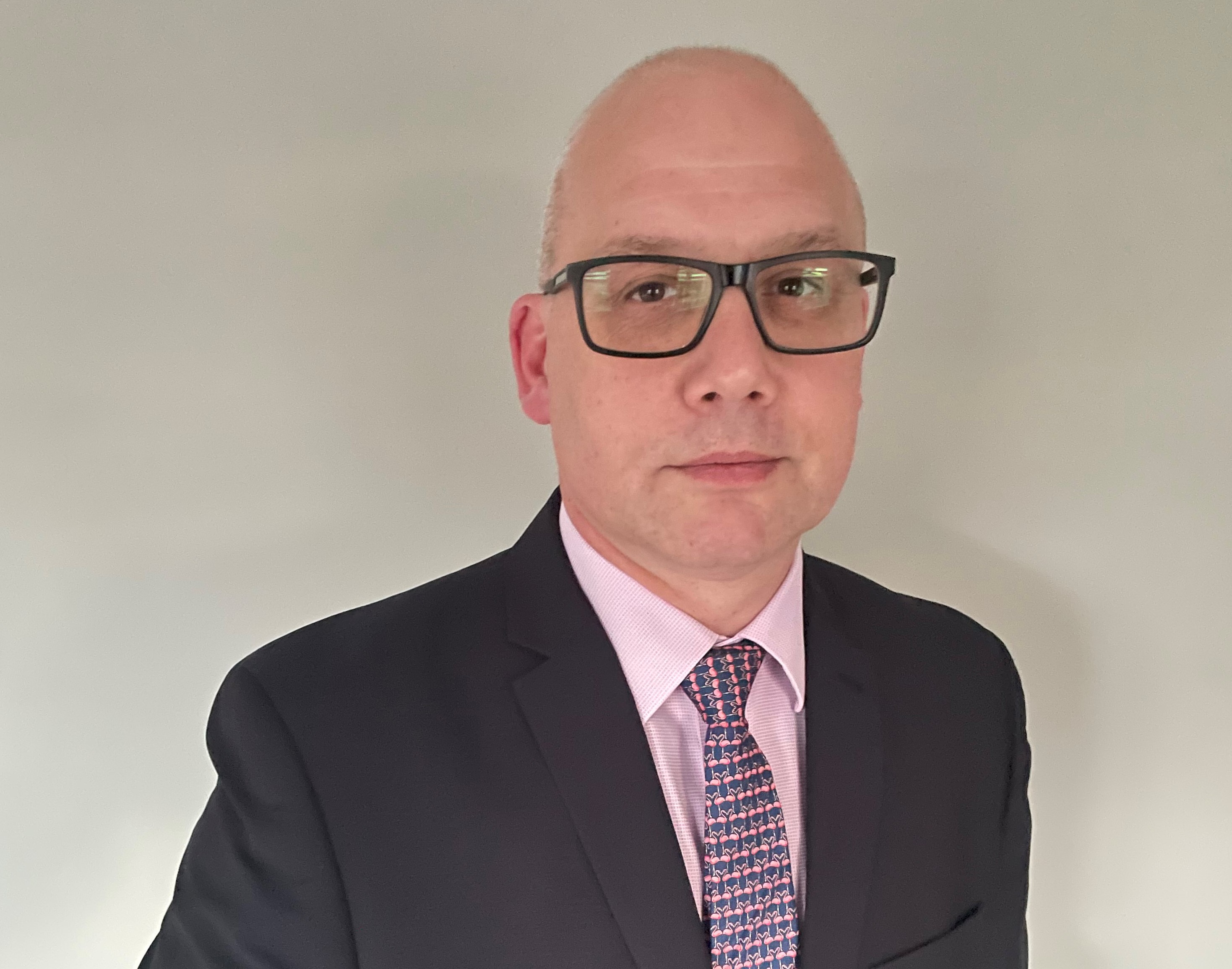 Richard Sachs
Director of Governance
Richard joined UHMBT in November 2021. Previously, he was the Director of Quality Governance at Bolton NHS Foundation Trust with responsibility for quality improvement, risk and assurance, clinical audit and effectiveness, patient experience, claims and inquests, chaplaincy, health and safety and research and development.
He began working in the NHS in 1997 in a succession of governance roles in London before moving to the North West in 2008 where he has worked at Wrightington, Wigan and Leigh Teaching Hospitals NHS Foundation Trust, Liverpool Women's NHS Foundation Trust and Lancashire Teaching Hospitals NHS Foundation Trust.
Personal Assistant
Judith Palmer
Judith.Palmer@mbht.nhs.uk
T: 01539 716688
---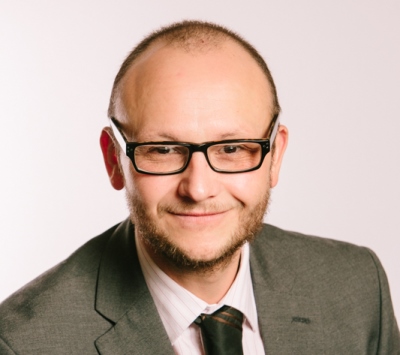 Phil Woodford
Director of Corporate Affairs
Phil's portfolio at UHMBT includes corporate communications, stakeholder relations and engagement and he is also the lead for Communications and Engagement for Bay Health and Care Partners – an alliance of health and care organisations looking to transform care across the Morecambe Bay area.
Phil has worked in the NHS since 1999. He joined joining UHMBT as a marketing manager in 2008, and has led the organisation's communication and engagement response to a number of high profile issues, in particular the Kirkup report into failings in maternity services at the Trust, published in 2015.
He also contributed to the communications and engagement programme around the Better Care Together Vanguard programme between 2015 and 2018.
He has worked in a variety of business development, senior management and marketing roles in both the public and private sector, and was previously the General Manager at Lancashire Ambulance Service. He holds several marketing qualifications including an MA.
Phil is also a public advisor for the Collaborations for Leadership in Applied Health Research and Care (CLAHRC) funded by the National Institute for Health Research (NIHR) for Stroke research programmes and is a regular public speaker on the experiences of surviving a Stroke.
Personal Assistant
Samantha Wittering
samantha.wittering@mbht.nhs.uk
T: 01539 715348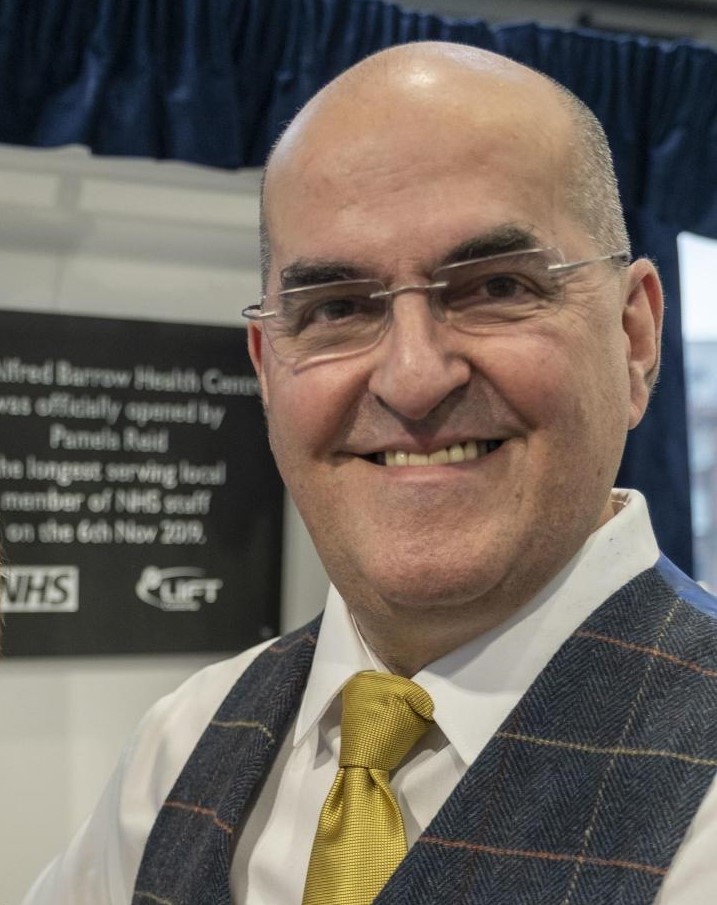 Geoff Joliffe
Advisor to Trust Board
---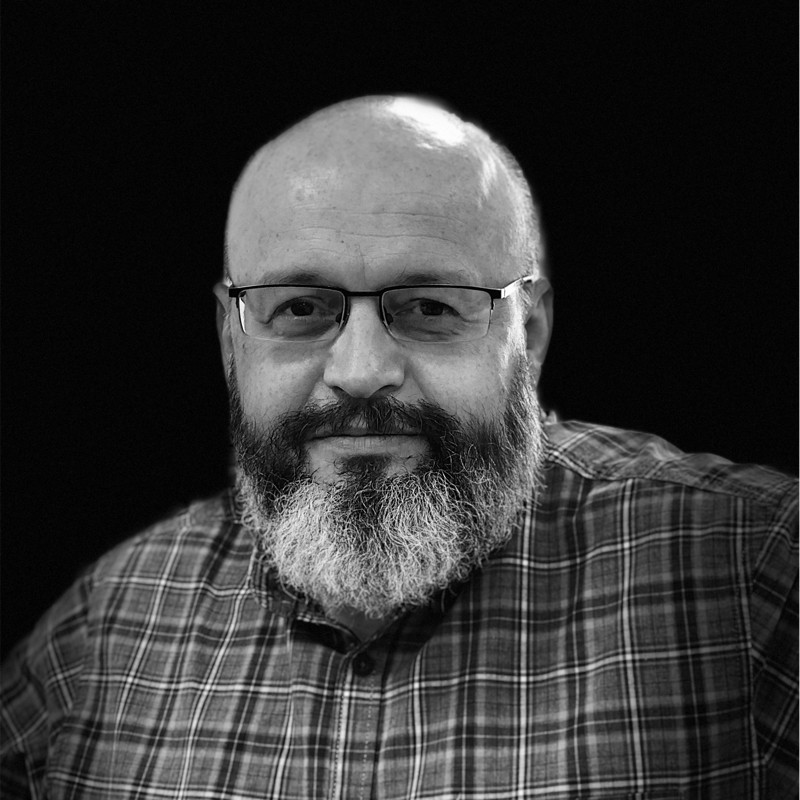 Paul Jones
Company Secretary
---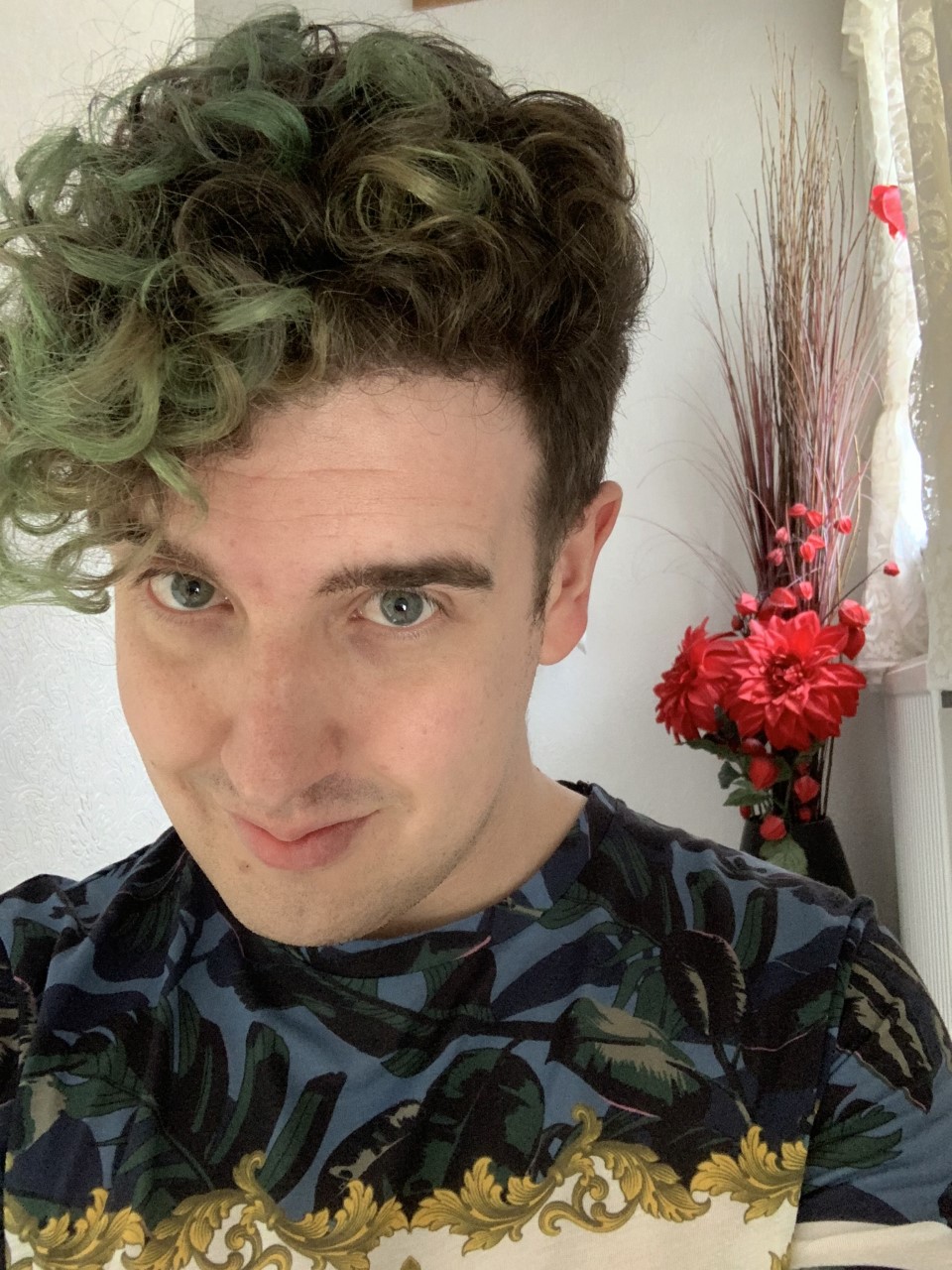 Ben Maden
Chair of Union Staff-Side
---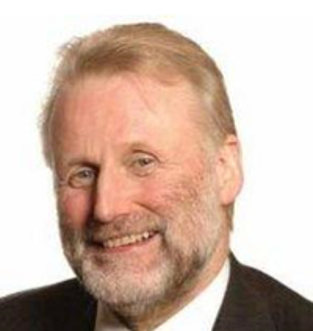 Colin Ranshaw
Head Governor