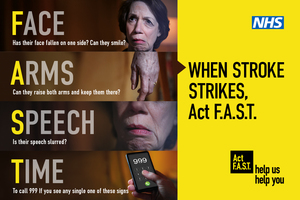 Tomorrow (Friday 29 October), the Blackpool Tower will be lit up in recognition of World Stroke Day.
As part of the NHS in Lancashire and South Cumbria, we will be giving strong support to World Stroke Day – an annual opportunity to highlight the serious nature and high rate of strokes and spread awareness of the risk factors and signs.
Across the region, the NHS will get behind the #Precioustime campaign, which aims to make people better aware of the signs of stroke. The campaign is hugely relevant for Lancashire and South Cumbria, where many stroke patients are seeking help too late to benefit from lifesaving or disability-reducing treatments.
The #Precioustime campaign – launched by the World Stroke Organisation – drives home the message that when somebody has suffered a stroke, minutes can save lives.
Worldwide, over 13 million people will have a stroke each year, and about 5.5 million people will die as a result. Patients who survive may lose their ability to speak, move or remember. Through campaigns like #PreciousTime, healthcare professionals want to help more people make good recoveries from stroke, maintain their independence, and preserve their precious memories.
Health and care partners across Lancashire and South Cumbria will be supporting the message to act 'F.A.S.T.' to save lives. F.A.S.T. stands for 'Face drooping – Arm weakness – Speech difficulties – Time to call 999'.
The NHS also backs the Stroke Association's #HopeAfterStroke campaign, which helps stroke survivors get the support and treatment they need to rebuild their lives.
Jennifer Gardner, Associate Director for the North West at the Stroke Association, said: "This World Stroke Day, we want to highlight the vital part hope plays when recovering from a stroke.
"The physical impact of a stroke is severe, but for many, the emotional aspects of coming to terms with having a stroke are just as significant. Finding hope is a crucial part of the recovery process. Without it, recovery can seem impossible.
"At the Stroke Association, we support and help people to find this hope, and rebuild their lives. But with 1.3m people and rising in the UK now living with the effects of a stroke, our services have never been more stretched. We urgently require the support of the public to help us continue to support stroke survivors to rebuild their lives."
The NHS in Lancashire and South Cumbria are working together to improve stroke services in the region and are planning to put additional investment into enhancing acute stroke and rehabilitation services across the region. You can have your say on these proposals here.
World Stroke Day Campaign: https://www.world-stroke.org/world-stroke-day-campaign