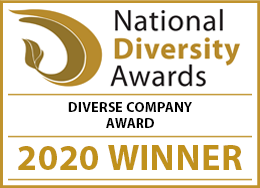 University Hospitals of Morecambe Bay NHS Foundation Trust (UHMBT) is delighted to have won the 'Diverse Company Award' in the National Diversity Awards (NDAs) 2020.
A record 60,000 people made nominations in the last year alone with 126 nominees being recognised for their various achievements nation-wide.
Karmini McCann (pictured below,left), Head of Culture Transformation at UHMBT, accepted the award on behalf of the Trust at the awards ceremony at Liverpool Cathedral on Friday 17 September.
Karmini said: "We are absolutely delighted to have won the Diverse Company Award. This is testament to the commitment of everyone within our Trust who has championed and worked hard to ensure that diversity is celebrated, understood and welcomed.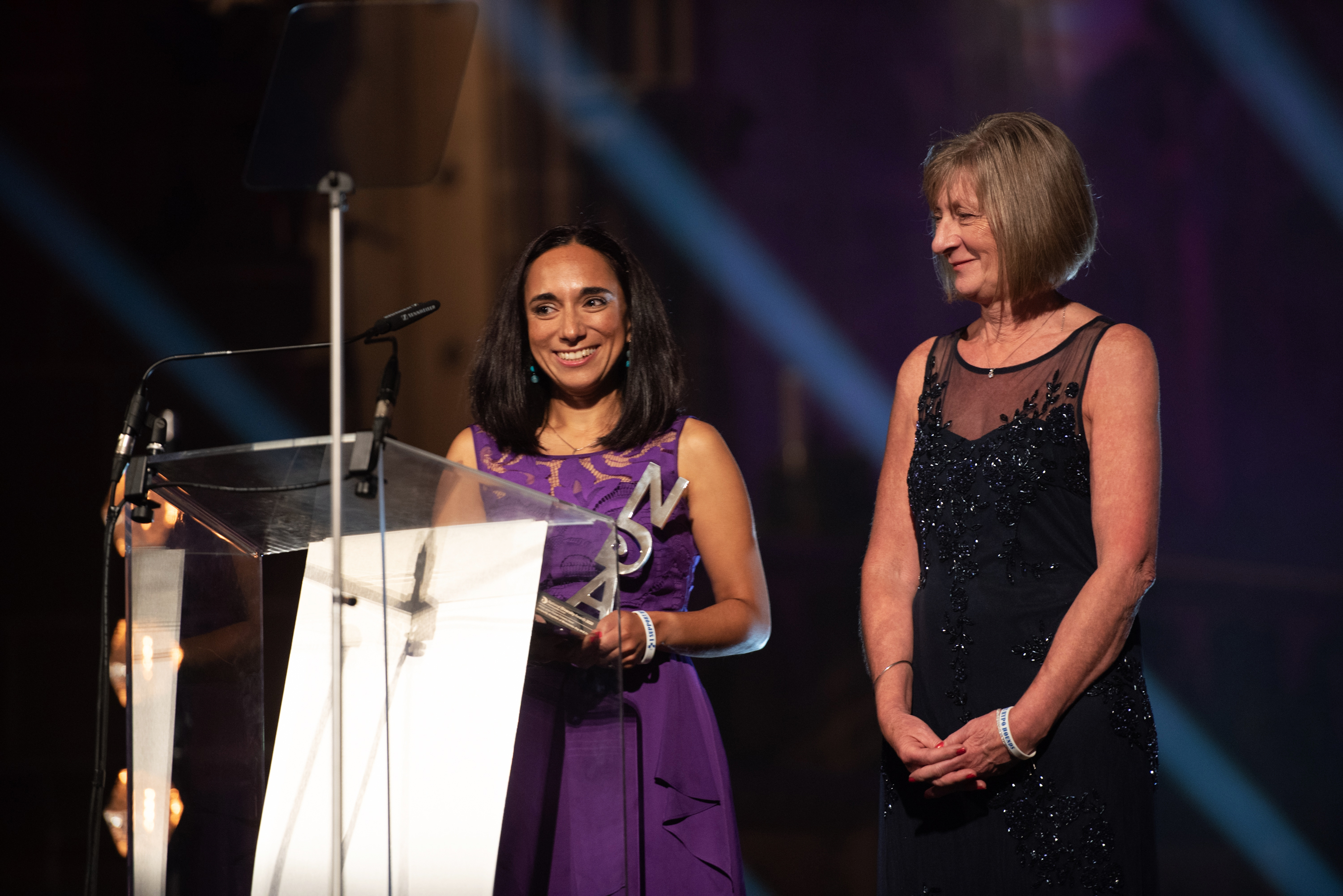 "We were put forward for this award, I understand, for our work pre-pandemic and then on how we responded quickly, and in partnership, to support colleagues through the pandemic.
"This is very much about recognising the work of our Inclusion Networks and how we have worked together to keep colleagues safe and looked after. We still have important work to do, but it is right that we recognise the amazing hard work that so many people have put in over the years - with the impact being felt by our colleagues and our patients. Thank you all and well done!"
Gillian Day, Project Lead for Strategic Recruitment and Retention and Forces Network Chair, said: "This prestigious award recognises all of the work that we have been doing to make our Trust continuously more inclusive. A huge amount of work has taken place over the last few years to help improve the experience of our colleagues, including the development of our Disability, Black, Asian and Minority Ethnic (BAME), Forces, Lesbian, Gay, Bisexual, Transgender+ (LGBT+), Gender, Carers, Women's and other staff networks.
"We have also worked to embed our Behavioural Standards Framework into the UHMBT culture as well as ensuring that all staff know how they should be treating colleagues and how they should expect to be treated. This work is ongoing and we are committed to striving for more and even greater improvements."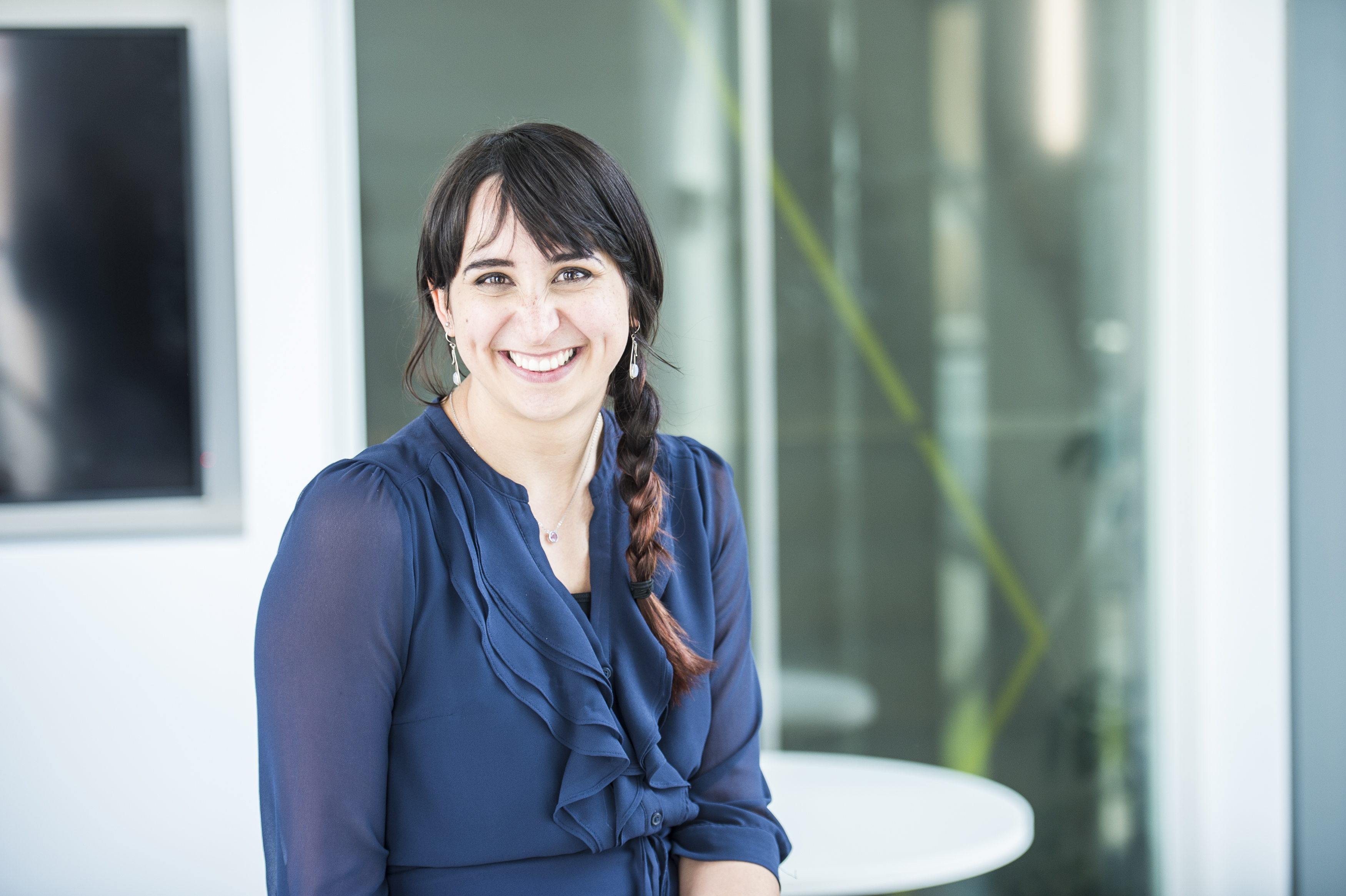 Hannah Chandisingh, Lead for Race Equality at UHMBT, said: "I am so pleased to see this recognition for colleagues in all roles who have truly gone above and beyond to ensure colleagues from all backgrounds are as safe as possible throughout the pandemic. We still have a long way to go but we are passionate about working together to make our hospitals more inclusive, and to make a real difference to the lives of our colleagues, friends and patients."
The award reflects UHMBT's current priorities which are to ensure the wellbeing of colleagues, quality and safety of care and improvement of services for all.
Paul Sesay, Founder and CEO of the National Diversity Awards, said: "Congratulations to all of our winners! During difficult and challenging times, it is now more important than ever to recognise our country's true role models. It is an honour to recognise your fearlessness, resilience and humanitarian efforts."
Diversity and inclusion are at the heart of UHMBT's 'People Strategy' – 'Creating a Great Place to Work and a Great Place to be Cared For' – for every individual. The Trust works with colleagues to understand and learn from lived experience, quantitative data and qualitative feedback. It also takes action to address inequalities such as implementing evidence-based best practice and creating a place of belonging for everyone.
UHMBT's commitment to being inclusive and valuing diversity takes many forms. One example is the Trust's Black, Asian and Minority Ethnic (BAME). This network aims to create a supportive working environment for BAME colleagues and encourages all staff to understand the needs of the BAME community. During the coronavirus (COVID-19) pandemic, the Trust has been supporting BAME colleagues with the latest advice and guidance as well as practical help with health-related matters.
Another example is UHMBT's Disability Staff Network (DSN) which is open to all employees, volunteers and students with a disability as well as colleagues who want to help support people with a disability. This network aims to make sure that the Trust is a safe and inclusive environment for people with different disabilities and encourages all staff to understand the needs of individuals.
A further example is the Trust's Lesbian, Gay, Bisexual and Transgender+ (LGBT+) staff network aims to maintain a supportive environment for lesbian, gay, bisexual and transgender colleagues and make sure that all staff understand the needs of LGBT+ individuals. This group also makes sure that policies and decisions made across the Trust consider the LGBT+ community and provides confidential support and advice to all staff.
The Trust has 'Respect Champions' who voluntarily carry out their role alongside their contracted post. Coming from all disciplines and sites within the Trust, their primary role is to provide confidential support for colleagues who feel they are victims of bullying, harassment or incivility. .
Television presenter, Konnie Huq, hosted the ninth annual National Diversity Awards, following a delay due to the COVID-19 pandemic. Community organisations and role models from across the UK were honoured as the best of British diversity.
Connie said: "Diversity and inclusivity are two massively important areas to me and important strides can still be made. It's great to be honouring those who have already made an impact in this field. We've seen a challenging year and it's important that we still keep striving to improve the playing field to a level one."
ITV News worked in conjunction with organisers leading up to the ceremony to highlight role models and community organisations on regional and national news channels.
The ceremony, which was live streamed, was described as the 'Golden Globes of the diversity world' among attendees. In addition to real life diversity heroes, a number of special guests made an appearance including Last Leg presenter Adam Hills, Rugby legend Gareth Thomas, CBE, TV personality and autism campaigner Christine McGuinnes, actor and comedian Richard Blackwood and cast members from Coronation Street, Hollyoaks and Emmerdale.
Designed to highlight the country's most inspirational and selfless people, the NDAs are supported by the likes of Stephen Fry, Graham Norton and Adam Hills amongst many others.
Katie Piper, philanthropist and TV presenter, said: "In what has been a tough year for many, I am so pleased these awards celebrate a new generation of positive role models. As a campaigner myself, I love reading about the excellent achievements of grass-root communities which tackle the issues in today's society with sheer dedication."
The full list of winners is as follows:
Positive Role Model for Age: Isabella Evans
Positive Role Model for Disability: Zack Kerr
Positive Role Model for Gender: Lisa Ventura
Positive Role Model for LGBT: Laks Mann
Positive Role Model for Race, Faith & Religion: Dr Anjana Khatwa
Community Organisation Award for Age: Skylarks
Community Organisation Award for Disability: Wouldn't Change a Thing
Community Organisation Award for Gender: Us Programme
Community Organisation Award for LGBT: GYRO – Young Person's Advisory Service
Community Organisation Award for Race, Faith & Religion: Black Health Initiative (BHI)
Community Organisation Award for Multi-strand: The Scottish Centre for Personal Safety
Entrepreneur of Excellence: Gavin Neate
Celebrity of the Year: Leigh-Anne Pinnock
Diverse Company: University Hospitals of Morecambe Bay NHS Foundation Trust
Lifetime Achiever: Lord Simon Woolley CBE
ENDS