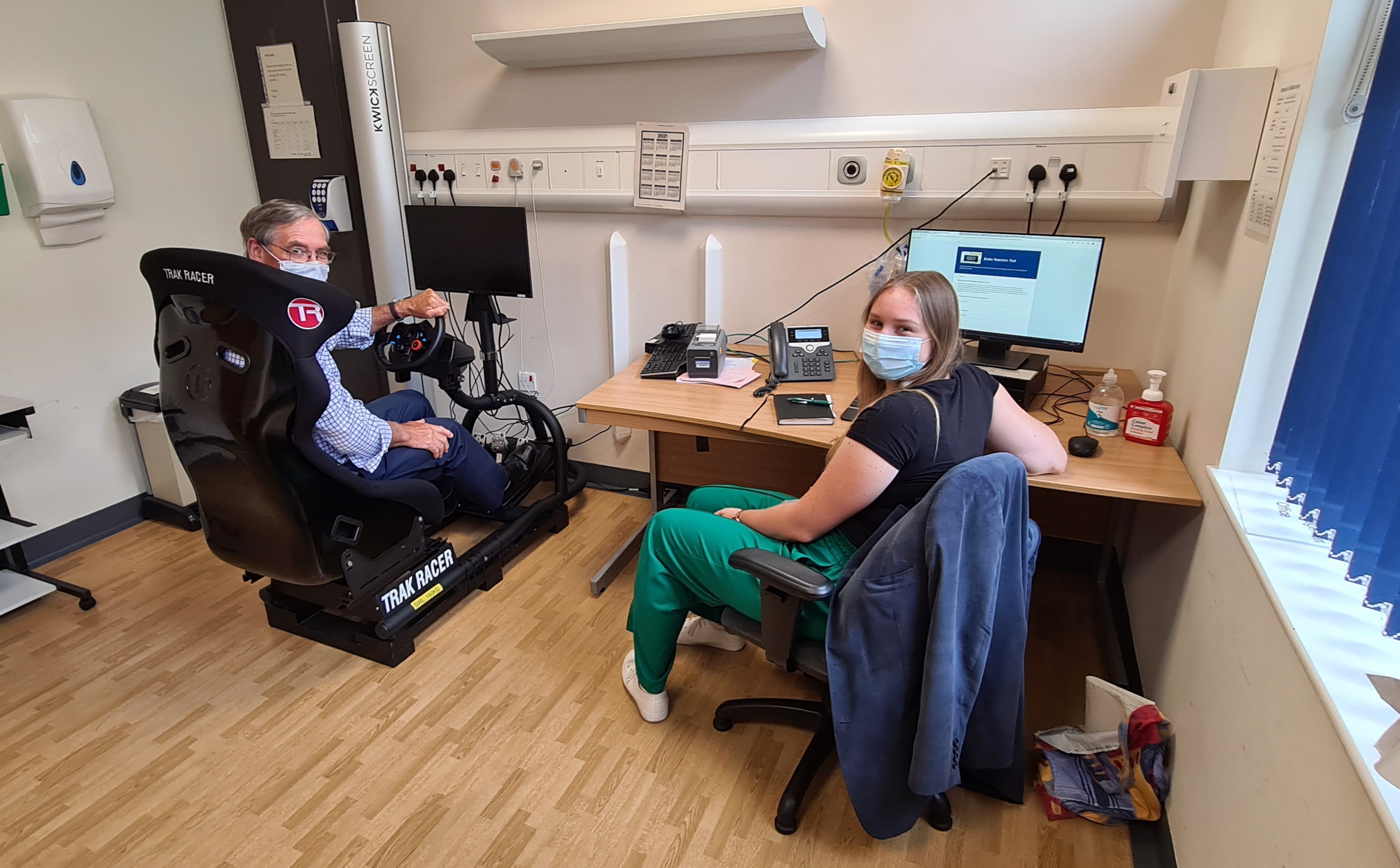 "When can I drive again doctor?" This is one of the most frequently asked questions by patients who have had a total hip replacement in the UK.
Clinicians and researchers at University Hospitals of Morecambe Bay NHS Foundation Trust (UHMBT) have come up with a novel 'car simulator' to test the brake reaction of patients who have had a modern total hip replacement.
The UHMBT team says there is no easy answer to the question of when a patient can drive after a full hip replacement as the Driver and Vehicle Licensing Authority (DVLA) and insurance companies leave the decision up to the driver and their doctors; there is no real set marker as to when it is 'safe'.
When a patient asks the question of their surgeon, they expect a clear evidence-based answer but the existing evidence is from the 1980s using different surgical implants and techniques and different car designs. Few UK based studies have been conducted which help answer this question.
Mr Hugh Stewart, Trauma and Orthopaedic Consultant and Principal Investigator for the research study at UHMBT, built the car simulator himself using a force transducer and gaming equipment. Mr Jonny Yates, Orthopaedic Speciality Trainee for UHMBT, sourced the hardware and developed the research protocols.
With help from the IT department at Westmorland General Hospital (WGH) in Kendal, they linked up the simulator to allow them to measure patients' brake reaction times and the force at which they apply the brakes.
Mr Yates said: "At Kendal we offer several surgical approaches to total hip replacements which include the anterior and posterior approaches.
"Mr Stewart prefers the anterior approach for the theoretical benefit of it being muscle preserving and therefore better for rehabilitation and getting back to such activities such as driving.
"He wanted to see whether he could create a clinical test to observe when patients could physically drive after such an operation. We have also included the posterior approached hips of several hip surgeons at Kendal to get an idea of when these patients could physically drive for comparison.
"This research is a fine example of the interesting and exciting work happening within the Trust. It will benefit all patients and allow us to give them a clearer answer when they ask when they can drive after hip replacement surgery."
Mr Stewart and Mr Yates are also receiving help from Professor Peter Diggle, a Senior Statistician at Lancaster University. Their research has been approved by the National Institute for Health and Research (NIHR) and they have been joined by Susanna Crayton, a Non-medical Research Intern and Jean Kinder, a Research Assistant from the Research and Development Team at UHMBT, and have begun recruiting patients into this exciting study.
This is yet another way that the Trust is thinking innovatively to improve the quality and safety of care provided to patients.
The research study is expected to take 18 months and the findings will be reported in 2023. The team are delighted having recruited their first patients in the week of August 2 and in the words of Mr Stewart: "Let's do surgery!"
ENDS
Notes to editors
Picture one: Mr Hugh Stewart, Trauma and Orthopaedic Consultant and Principal Investigator, left, with the car simulator and Mr Jonny Yates, Trauma and Orthopaedic Specialist Trainee Registrar and Junior Investigator, right.
Picture two: Mr Hugh Stewart in the chair with Susie Crayton, Research Intern.