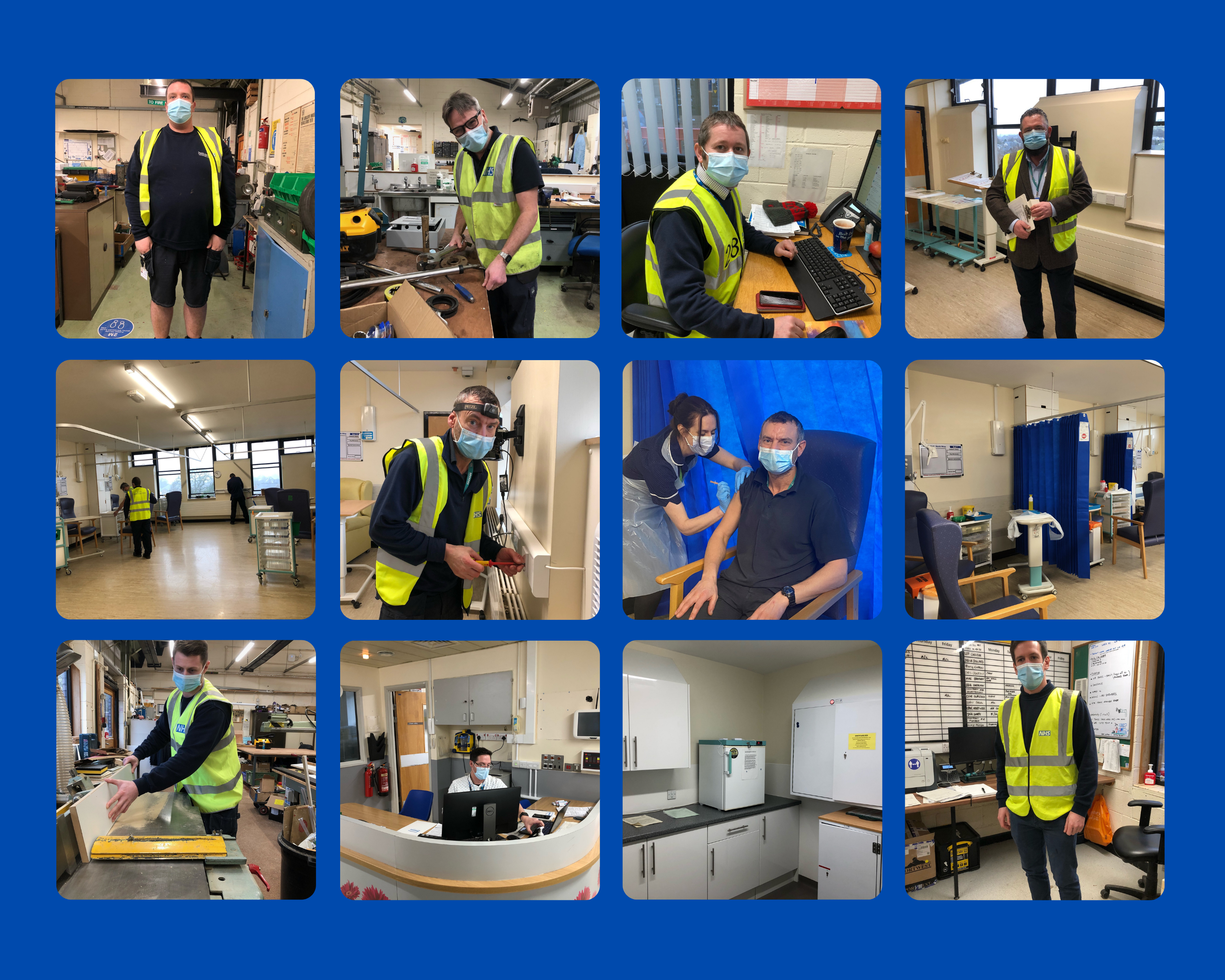 An Estates Team at University Hospitals of Morecambe Bay NHS Foundation Trust (UHMBT) has been praised for moving swiftly to set up a COVID-19 vaccination hub at Westmorland General Hospital (WGH) in Kendal.
Ian Cummings, Estates Maintenance Services Manager at UHMBT and his team, received news of the imminent arrival of the Oxford AstraZeneca vaccine on Friday 8 January and made a monumental effort to transform a former hospital ward into a vaccination hub in just 48 hours. The Estates Team went above and beyond the call of duty to ensure that everything was ready for the first Oxford AstraZeneca vaccinations at WGH on Monday 11 January.
Clive Cwaczko who is from Lancaster and now lives in Kendal, is an Electrical Tradesman for UHMBT at WGH who worked tirelessly with his colleagues to get the hub up and running. Clive was also among the first members of staff to be vaccinated.
Clive said: "I was really pleased to get the vaccine because I've been in the thick of it since the start of the pandemic. I didn't think it would happen so quickly.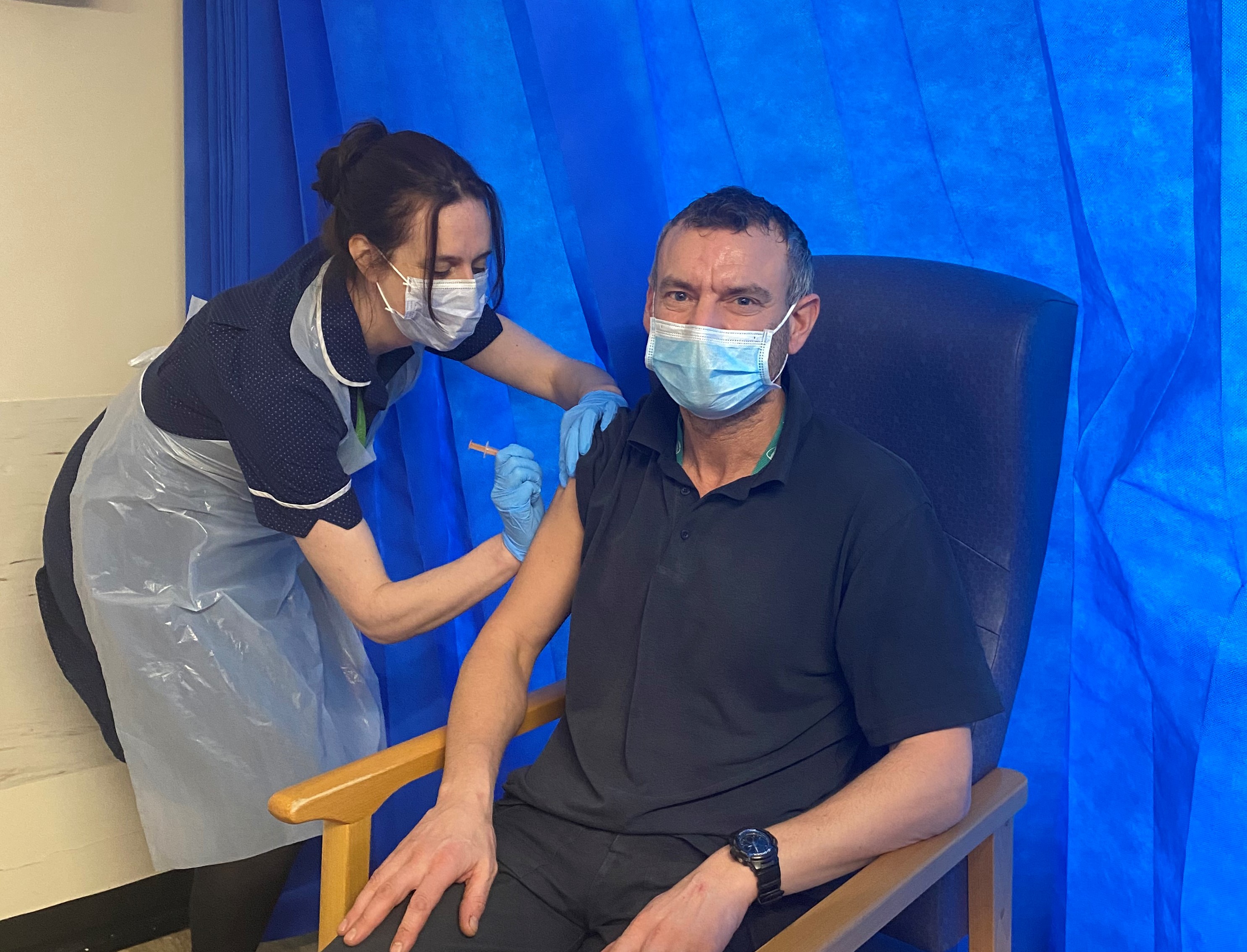 "It will make a huge difference to everyone working on the front line and behind the scenes in the hospital. My wife is very pleased that I've had it because I've been working in the hospital environment and am 'high risk'. We've got a 16-year-old lad and I have elderly parents living nearby who I haven't been able to see very often; it gives all of them some peace of mind.
"I was keen to have it and I would encourage everyone else to do the same when it is offered. Protect yourself and protect others!
"We got the call to say the clinic needed to be set up for the Monday so I juggled personal commitments to make sure I could help. It was no problem – needs must!
"It was a great team effort; ten out of ten, and Ian was spot on as our manager. He always looks after us really well. It was very rewarding and I was proud to be part of it because it will help to keep colleagues and patients safe."
The former Langdale Ward - a general medical ward - has been transformed into a hub with three separate bays; one for a waiting area, one for where the vaccinations are administered and one where people can sit and rest after they have had the vaccine.
Ian, a dad of one from Halton whose wife, Judith Dootson, works as a nurse at the Royal Lancaster Infirmary (RLI), said: "Our team worked extremely hard over the weekend to decant the old Langdale Ward and get the vaccination hub ready.
"It was a significant challenge but we're a tight team and we understood how important it was to roll out the vaccination programme as soon as possible. I'm hugely proud of our team's achievements.
"The Estates Teams across the Trust have gone the extra mile during the pandemic. The COVID pandemic has showcased the huge amount of skills and knowledge within the Estates teams.
"We also had great support from our Patient Environment Services (PES) colleagues who did the deep cleaning of the vaccination areas and Joe Ogle from the Mortuary who helped us with arranging storage."
The team working on the transformation of the ward at WGH included Clive, Ian and Engineering Manager Lee Chelton, Mechanical Apprentice Dez Conway, Joiner Chris Graveson, Electrical Estates Officer Gary Cotton, Mechanical Tradesman Luke Phillips and Estates Secretary Rebecca Hudson.
Ian, who caught COVID-19 outside of the Trust and ended up seriously ill in hospital, added: "I was on oxygen in hospital for two and a half days so I know how dangerous the virus can be. It was extremely scary and I am glad that I have now had my vaccination."
UHMBT was one of the first trusts across England to start vaccinating using the new Oxford AstraZeneca coronavirus vaccine. The first Oxford AstraZeneca vaccines were given out at the Royal Lancaster Infirmary (RLI) on Monday 4 January 2021. The Trust has also been administering the Pfizer vaccine at Furness General Hospital (FGH). 
The NHS is the first health service in the world to deliver the new life-saving jabs as part of the phased vaccine programme. Hundreds of new vaccination sites are coming on-stream each week and GPs have bulk supplies of the Oxford AstraZeneca vaccine. NHS staff are being vaccinated now that more vaccine is coming on stream.  
Aaron Cummins, Chief Executive of UHMBT, said: "Our Estates colleagues have been central to the success of our vaccination programme and I am hugely thankful to them for their sterling work in getting our vaccination hubs ready.
"Our teams will continue to work alongside our Bay Health and Care Partners and colleagues in primary care to vaccinate as many people as possible and help protect them against COVID-19. There has been a fantastic team effort throughout the pandemic and this is continuing with our vaccination programme. I'd like to thank everyone involved and urge anyone who is invited to have the vaccine to do so; it really will help us to save lives."  
People who are eligible to receive the vaccine will receive an invitation to book their appointment. For most people this will be a letter, either from their GP or the NHS. This letter will include all the information people will need to book appointments, including their NHS number. Residents are asked not to contact the NHS to get an appointment until they have received this letter.  
Information on the COVID-19 vaccines is available on the NHS.UK website.
ENDS
NOTES TO EDITORS:
Background
The NHS is now administering the new Oxford AstraZeneca coronavirus vaccine as the health service rapidly scales up the biggest immunisation programme in its history.  
The NHS is the first health service in the world to deliver the life-saving jab and hundreds of new vaccination sites are coming on-stream. 
NHS chief executive, Sir Simon Stevens, said: "The delivery of the Oxford AstraZeneca vaccine marks another first for the NHS and a major milestone in humanity's battle against coronavirus.
"The vaccination programme - the biggest in NHS history - has got off to a strong start, and by New Year's Day we'd been able to vaccinate more people than the rest of Europe combined. Now we have a second, more versatile, jab in our armoury, and NHS staff are expanding the programme as extra vaccine supplies come on-stream and the arrival of the Oxford jab, coupled with more Pfizer vaccine being made available, will allow us to protect many more people faster."  
Prime Minister, Boris Johnson, said: "The Oxford vaccine is a triumph of British science and I want to thank everyone involved in its development and production.
"We know there are challenges still ahead of us over the coming weeks and months, but I'm confident this is the year we will defeat the coronavirus."  
Health and Social Care Secretary, Matt Hancock, said: "Through its vaccine delivery plan, our exceptional NHS has now delivered over a million vaccinations to patients across the UK. The vaccine is our way out and this huge achievement brings us a step closer to the normality we've all been working hard to reclaim."
The NHS made history when Maggie Keenan became the first person in the world to be vaccinated against coronavirus outside of a clinical trial at Coventry Hospital on 8 December.  
An army of current and former NHS staff have applied to become vaccinators, with tens of thousands having already completed their online training. They are now being deployed as more vaccine supplies become available.  
The new Oxford vaccine is easier to transport and store than the Pfizer vaccine, which has to be kept at minus 70 degrees until shortly before it is used, making it easier to deliver in care homes and other settings.    
Ends

For further information please contact the NHS England and Improvement media team on nhsengland.media@nhs.net or 01138 250958