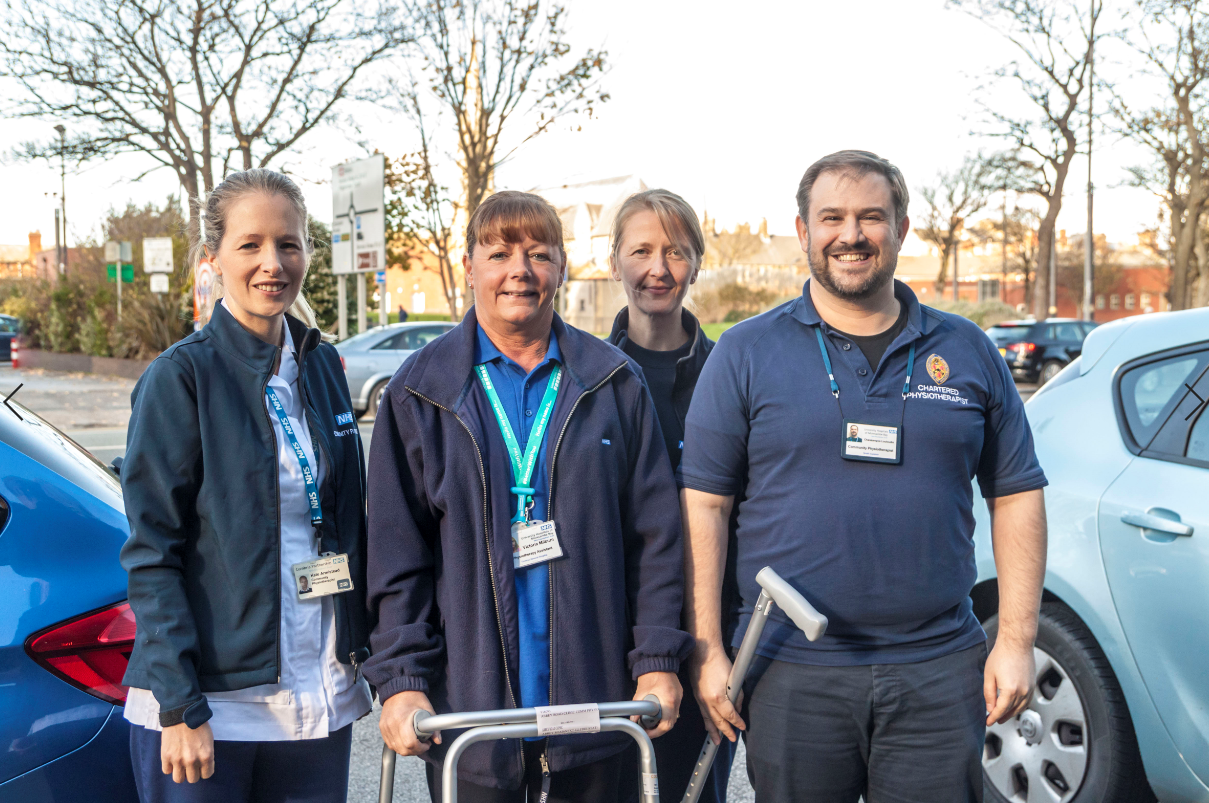 The NHS Constitution starts with the heading: The NHS belongs to the people.
I really like this broad and simple statement. If this is to be properly realised, I believe the NHS needs to be controlled and delivered by the people.
I recently had the privilege to spend a day with a local clinician called Alison who works in the Kendal area in Cumbria as an integrated care community nurse specialist.
It's the most fulfilling day I've had at work in decades! I'm not going to give an hour by hour account of the day, but I will try to summarise it and why, as well as leaving me excited by the possibilities my experience, it has left me disillusioned as this isn't the model of care that is delivered everywhere – when I think of the care a good friend had recently in the West Midlands before dying makes me sad, The care I saw with Alison is what I'd want for my family. I will endeavour to get out into other areas around Morecambe Bay to experience it as well.
Alison will tell you she's not particularly special but she is. What is just as special is that she has a hugely supportive team around her and on the day I could not get a sense of hierarchy and status amongst her and her colleagues.
I've always felt that operational structures and hierarchies get in the way of progress. There is a good reason they exist in the military, but I don't believe all professions need a hierarchical system to perform at their best; they just need trust and support.
In the main, Alison interacts with elderly and frail patients in their homes with a driven purpose to help them stay independent and at home for as long as it is safe to do so.
I felt quite privileged to be invited into other people's homes and to be so welcome.
When I was a patient at home and care workers and therapists would come to see me, it felt like a huge intrusion into my personal space. With this in mind I really wanted to be as respectful as possible.
I'm an emotional fool most of the time so I struggled to hold in my tears. Visiting Peter (not his real name) was a bit of a highlight.
Peter was housebound and frail. We talked with Peter about how he was keeping - his skin was almost translucent. Despite the hearing challenges he had, we chatted about his home and TV programmes.
I love to listen to people talking about their lives, not just because I'm nosey, but because I believe such people often have the answers to the challenges the NHS faces. Many of them have seen it all before and have lived a full life before I was even born. It would be foolhardy, in my opinion, to ignore people with such life experiences.
Peter suddenly explained that 10 years ago he had moved to the area as a woman he knew wanted to marry him, but sadly she died before this was possible. He had never mentioned this to Alison before so, to me, it felt quite special that he would trust a stranger with this. At the same time, I felt the vulnerability in him.
Peter's living room was nicely decorated and Alison explained to me that he used to be confined to a smaller room at the rear of the house. However, Alison and her team worked with Peter to move him into the front room where he could see people passing by and not feel so alone.
They also arranged for his front room to be redecorated and through a local initiative, Alison was partnered with Peter to support him further. In her own time, Alison would also bring Peter hot, home-cooked food.
It is a lovely, community scheme where if you are cooking a meal at home, you cook a little bit more and don't put the remainder in the bin. Instead, you box it up and share it.
Peter was telling me how much he valued Alison doing this for him and he thought it was very special. We swapped stories about our ailments before Alison updated his care plan and we left.
Peter has visited the local A&E a number of times because he was feeling unwell and his carers understandably called 999.
With Alison's Knowledge of his condition, she was able to update his care plan to give advice to his carers and the ambulance service about what can be done to prevent any unnecessary trips to the A&E.
I really do hope to meet Peter again. I know he doesn't get out of the house, but perhaps a nice wheelchair push near the river one sunny afternoon might be in order!
Meeting Lloyd (name changed) with Alison was very moving.
Lloyd had received complaints via the council about the condition of his partner's grave. In response, Alison's colleague from the GP surgery had tidied the grave up and placed fresh flowers in her memory on Lloyd's behalf. Alison had also taken photographs on her mobile phone to show Lloyd.
Lloyd is extremely frail and underweight. Seeing his face when Alison showed him the camera was priceless.
Alison is now arranging to print the picture so that Lloyd can keep it with him and look at it on his own whenever he needs to.
Lloyd was insistent that he wanted to pay Alison for the flowers, however, this was not necessary as Alison's colleague had taken care of the cost already.
Seeing Lloyd at a difficult time and then his face lighting up at the picture, I feel, will be payment enough for Alison and her team.
Lloyd did disclose his secret recipe for meatballs before we left. Like Alison, I intend to try it out this weekend!
As we left I sat in the car thinking "is this what nurses do?" I wish I had been a nurse now! Of course, it is what nurses do; it's about compassion, caring and being kind.
As a patient and as somebody who has looked after others when there are no nurses or doctors around, I have often wondered what they are doing and is anybody thinking about us as patients.
I attended a multidisciplinary (jargon for a care team of different professions) team meeting at a local GP surgery where along with Alison, half a dozen GPs, a palliative care consultant from the local hospital and district nurses and managers, were gathered to discuss patients in their practice who were nearing the end of their life.
They were discussing the next steps to keep the patients as comfortable as possible. It was reassuring to know such discussions take place and respectfully too. They also spoke about patients who had recently died, how their families were doing and if they needed to look in and support them.
The NHS, like any large and complex organisation doesn't get everything right. I'm just sharing a positive snapshot of a point in time but, by god, when they do get it right it really is fantastic.
Despite everything we may read about when it goes wrong, please remember the tens of thousands of people who are out there doing their very best every day for me, you and our families.
I'm undertaking at Leadership Course at the moment and part of a goal I've set myself is to get out around the local Healthcare system and try to experience what it's like for my colleagues going about their daily routines as I feel I can best support them with this knowledge.
Thank you to Alison, Trudy, Peter and Lloyd for your time!
Phil Woodford
Director of Corporate Affairs, UHMBT