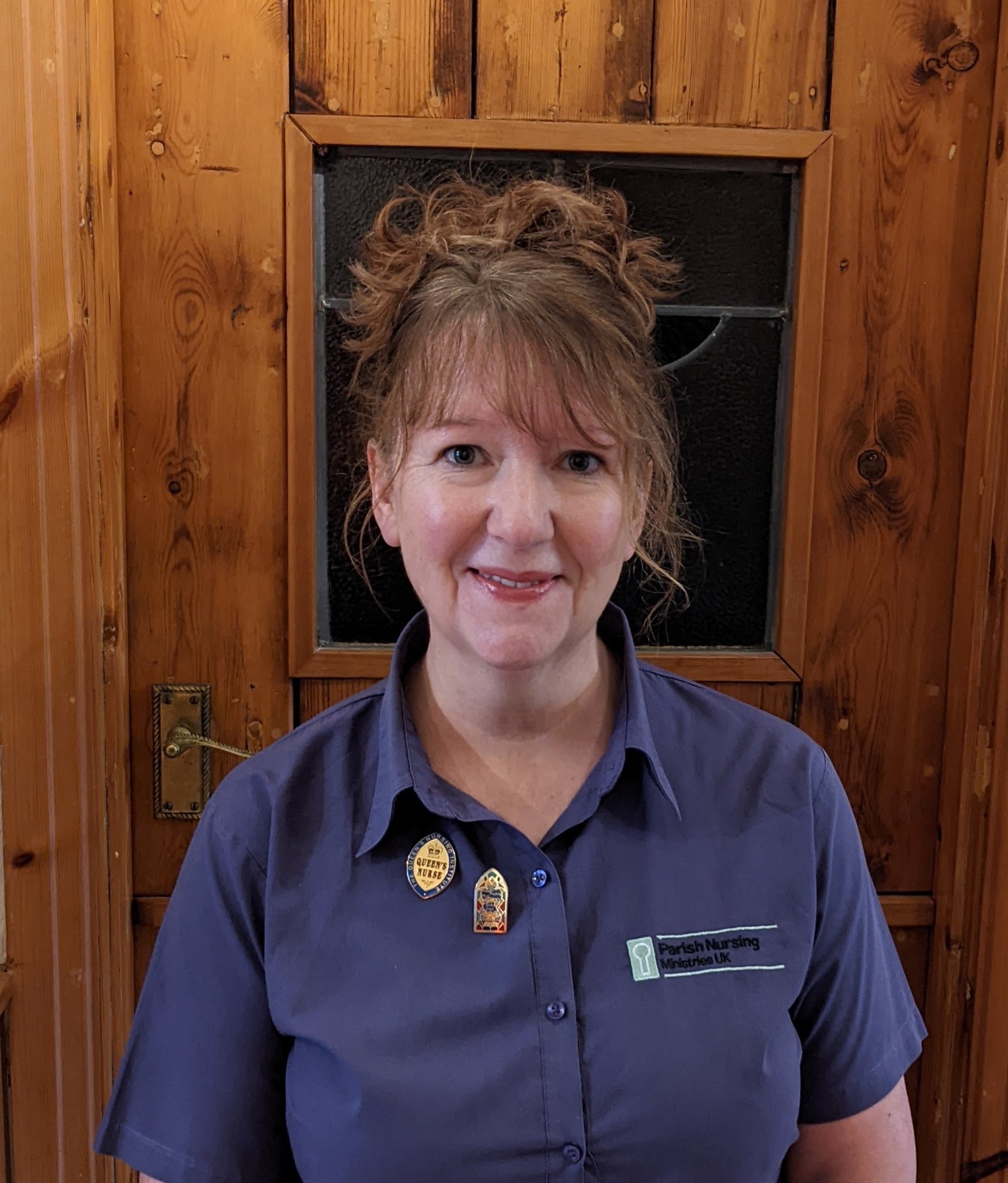 Parish Nurse, Ruth McDonald, has been awarded the prestigious title of Queen's Nurse by community nursing charity, the Queen's Nursing Institute (QNI).
Parish Nursing Ministries UK and University Hospitals of Morecambe Bay NHS Foundation Trust (UHMBT) have a Memorandum of Understanding whereby Ruth takes referrals to visit patients on discharge from hospital and also from the Community Case Management Team.
The QNI awards the title of Queen's Nurse to community-based nurses who have demonstrated excellence in innovation, development and leadership in their nursing practice. The partnership with UHMBT was cited in the application process with reflective evidence of the continued success of the partnership.
Ruth, who has been a nurse for more than 27 years, also works as a Bank Registered Nurse on the surgical wards at Furness General Hospital (FGH) in Barrow on a regular basis and was the Parish Nurse Coordinator for the North West for five years. In previous years Ruth worked as a Ward Manager at FGH.
The QNI awards ceremony took place on Monday 13 December and was held online this year due to the ongoing COVID-19 pandemic.
Ruth said: "I am completely humbled to be a Queen's Nurse. Around 350 out of 1,300 nurses were chosen to be Queen's Nurses this year. When I heard I was going to be made a Queen's Nurse, I just thought wow! It's a privilege and an honour. I love caring for people. I've always been a people person – caring for people is my passion.
"You've got to have the heart to be a nurse because it's a unique job. It's about having passion for people and seeing them in all kinds of situations. It's also about understanding where they're at, whether patients are in their own home or in hospital.
"I've been a Parish Nurse in Barrow for over 12 years and I love working in this area. Parish Nursing Ministries is a charity for Registered Nurses all over the UK that work from a local church. I am located at my local church – Emmanuel Community Church in Barrow. Parish Nurse's care for people's overall wellbeing, incorporating body, mind and spirit. The service is available to anyone whether they have a faith or not.
"As a Parish Nurse, you are not employed by the NHS so you can give your service in whatever way you feel fits your local area well. I serve the community in various ways. For example, I do chair exercises with older people and set up a group for people to meet up with the aim of preventing social isolation. I also do home visits for various people and do things like blood pressure monitoring, assessing and identifying health needs, offering continued support to service users and carers, referring on to other services and at times can include end of life care.
"It is a different role than District Nurses who mainly provide clinical services. It's more of a health promotion and prevention role. I can offer longer term care to people as well as shorter term care for people who have been discharged from hospital. My role complements the work of the Trust."
Ruth said the COVID-19 pandemic had brought various challenges with it for nurses and local communities.
She explained: "During the pandemic it has been very hard for patients, especially those who are socially isolated. I have kept in touch with people to make sure they have still been cared for and have done things like organising for their shopping to be delivered. Service users have been so grateful. Seeing someone in person makes such a difference."
The title of Queen's Nurse is not an award for past service, but indicates a commitment to high standards of patient care, learning and leadership. Nurses who hold the title benefit from developmental workshops, bursaries, networking opportunities and a shared professional identity.
Dr Crystal Oldman, CBE, Chief Executive of the QNI, said: "On behalf of the QNI I would like to congratulate Ruth and welcome her as a Queen's Nurse.
"Queen's Nurses serve as leaders and role models in community nursing, delivering high quality health care across the country. The application and assessment process to become a Queen's Nurse is rigorous and requires clear commitment to improving care for patients, their families and carers. We look forward to working with Ruth and all other new Queen's Nurses who have received the title this year."
Ruth is now looking forward to sharing her expertise with others in her new role as Queen's Nurse. This may involve writing articles, giving presentations and contributing to research and development initiatives.
Matron Lynne Dack, Ruth's professional supervisor at UHMBT, was delighted to hear that Ruth was to be made a Queen's Nurse.
Ruth said: "Lynne has been my support from day one. She has been fabulous in so many ways. I could not have done this without Lynne."
Lynne said: "Ruth is an incredibly compassionate nurse and the care she gives to her patients is a shining example of nursing at its best.
"In her role as a Parish Nurse, Ruth offers a unique and valuable service to the local community of Barrow. We are delighted that Parish Nursing Ministries UK is working in partnership with our Trust to give our patients even greater care.
"Ruth thoroughly deserves the title of Queen's Nurse because she is constantly striving to enhance the care she gives, and thinking of ways to boost the health of people in the Barrow community. I'd like to say congratulations Ruth on this well-deserved title!"
ENDS
Notes for editors: The title of Queen's Nurse is open to registered nurses with more than five years' experience working in the community. Managers and patients provide feedback about applicants, which is assessed along with their application. More information about how to apply is available at http://www.qni.org.uk
Picture caption: Queen's Nurse, Ruth McDonald